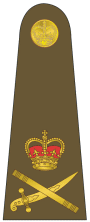 Please see "Lieutenant General" for other countries which use this rank
Lieutenant-General (Lt-Gen) is a senior rank in the British Army and the Royal Marines.[1]
A Lieutenant-General is superior to a Major-General but subordinate to a full General. The rank has a NATO rank code of OF-8, equivalent to a Vice-Admiral in the Royal Navy or an Air Marshal in the Royal Air Force (RAF) or the air forces of many Commonwealth countries.
The rank insignia is a crown over a crossed sabre and baton.
Royal Air Force usage
Edit
From 1 April 1918 to 31 July 1919, the Royal Air Force maintained the rank of Lieutenant-General. It was superseded by the rank of Air Marshal on the following day. Interesting, although Sir David Henderson was an RAF Lieutenant-General, the then RAF Chief-of-Staff, Sir Hugh Trenchard never held this rank. Additionally, the retired Royal Navy admiral, John de Mestre Hutchison, held an honorary RAF comission in the rank of lieutenant-general.[2]
References
Edit
Ad blocker interference detected!
Wikia is a free-to-use site that makes money from advertising. We have a modified experience for viewers using ad blockers

Wikia is not accessible if you've made further modifications. Remove the custom ad blocker rule(s) and the page will load as expected.