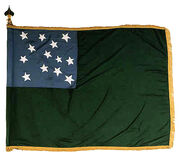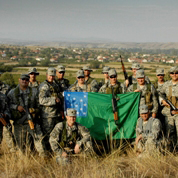 The flag of the Green Mountain Boys began as a regimental flag used by the Green Mountain Boys.
Today the flag is used as the regimental flag of Vermont's national guard unit. The regimental flag, known also as a "battle flag" or war flag, accompanies the unit on battle assignments and is physically handed to the commander of the regiment, as described by former Vermont National Guard Adjutant General Martha Rainville in an interview. [1]
The flag has a green field and, in an azure canton, a constellation of thirteen five-pointed white stars arranged in a natural pattern.
References
Edit
Ad blocker interference detected!
Wikia is a free-to-use site that makes money from advertising. We have a modified experience for viewers using ad blockers

Wikia is not accessible if you've made further modifications. Remove the custom ad blocker rule(s) and the page will load as expected.